What is the issue?
While converting a document the following error occurs: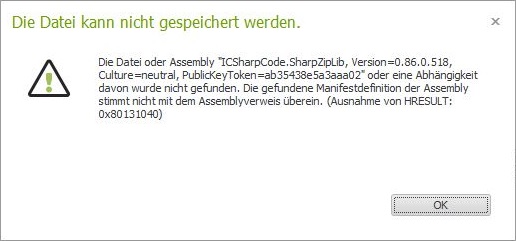 Error message in detail:
 "Could not load file or assembly "ICSharpCode.SharpZipLib, Version=0.86.0.518, Culture=neutral, PublicKeyToken=ab35438e5a3aaa02" or one of its dependencies. The located assembly's manifest definition does not match the assembly reference. (Exception from HRESULT:0x80131040)"
How to fix it?
When uninstalling axesPDF for Word it is possible that files from a former incorrect setup remain. Therefore uninstall axesPDF for Word again, delete the folder "axesPDF for Word" and install axesPDF for Word again.