Welcome to axes4 Support!
We are very pleased to introduce our new support portal. We have thoroughly redesigned the presentation and content. Finding answers, submitting requests or problem reports, and chatting with us or the axes4 community is now easy. In this guide you will find a short overview of the features for an efficient use of the support platform.
Basically, there are the following categories: Products & Services, Community and Contact. You can access these either directly via the navigation bar at the top of the website or via the overview further down on the homepage.


The navigation bar also includes the option to change the language as well as a personal area. The dark highlighted field at the top right edge provides access to the Log in/Log out, own activities and account settings options.

In the search bar, which appears directly on the start page of the support platform, you can search for a specific topic. As the search term is entered, suggestions already appear in a drop-down menu. When you press "Enter", a complete list of search results appears.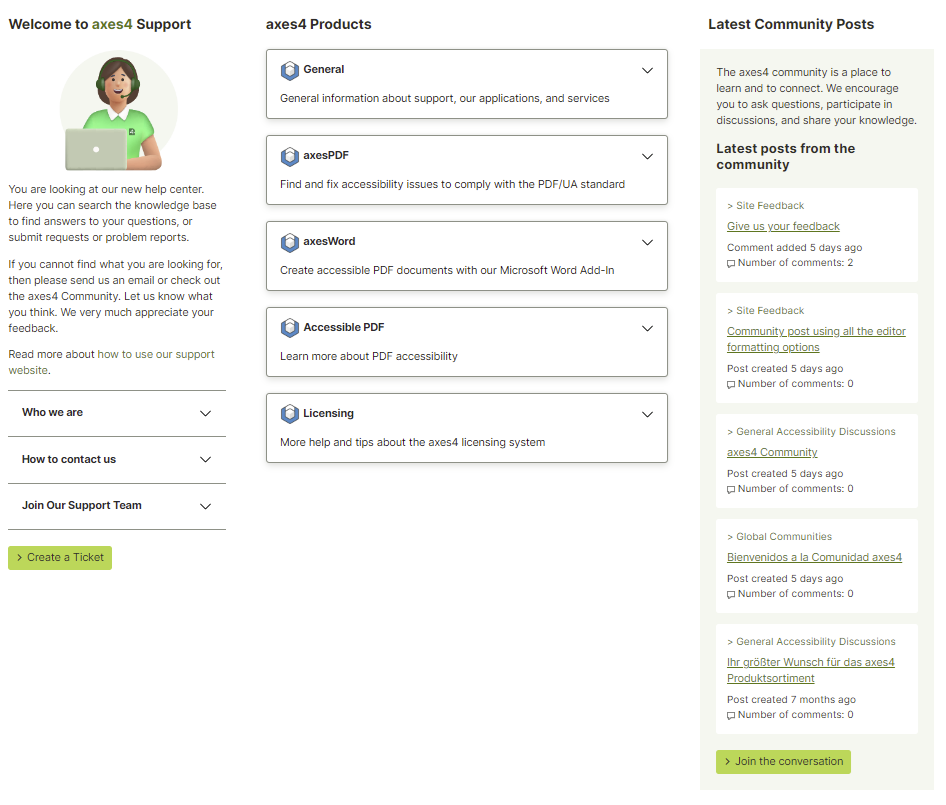 The heart of the support platform is the overview shown in the screenshot.
The left column contains information about axes4 and the option to contact us or create a support ticket. Open ticket: In the title you can name the issue, and elaborate in the description. It is also possible to attach screenshots or similar to better describe the problem. After you submit the ticket, an expert will take care of it as soon as possible.
In the middle column you will find an overview of our products & services. By clicking the drop-down button, you will find information articles, FAQs and individual help for each product.
The right column houses our community. The axes4 community is a place for learning and networking. We encourage you to ask questions, participate in discussions, and share your knowledge. Before you post a support request, feel free to stop by here. Perhaps another community member has already had a similar problem and found a solution with the help of our experts.
In the right column you can see the latest posts. Via "Join the conversation" you eventually get to the community area, where the posts are sorted by topic (e.g. axesWord, axesPDF). Here you can add posts yourself via "New Post". In addition, we welcome feedback from the community about our products & services!

The footer offers the possibility to learn more about axes4. Here you will find links to our social media channels as well as an overview of our memberships in various associations and professional groups.